Virtual Showings During Covid-19
Throughout the Covid-19 pandemic real estate has been considered essential in most areas. This has meant that real estate agents have had to adapt some of their regular practices to accommodate social distancing and less in-person contact.
Technology has been a life-saver during these past few months where we have been encouraged to #stayhome – from work, from school and away from family and friends. Social Media platform use has skyrocketed, video chatting software platforms have seen exponential growth, we are consuming more media and at the very least, we are using text messaging and video chatting to keep in touch personally and professionally.
On June 17, 2020 Planitar, maker of the iGUIDE, announced the release of a free feature called iGUIDE Virtual Showing to help those buying and selling homes stay safe in light of the Covid-19 pandemic. The company is releasing a key partnership with Floorplanner later next week, and virtual staging abilities was announced earlier this spring.
Tour Homes Virtually with iGuide 3D Virtual Tours
The company's iGUIDE technology already creates 3D tours of homes that buyers can tour virtually, without the risk of spreading germs. This new feature  allows agents to guide homebuyers through the tour together as if they were conducting an in-person tour. This screen-sharing technology showcases the virtual tour smoothly, so there's no interruptions or confusion over which feature participants are discussing. Homebuyers will no longer have to choose between having the expert guidance of their agent and following safety protocols.
Michael Vervena, VP of Sales and Marketing at iGUIDE, says this technology will help homebuyers move confidently in the homebuying process, and will also benefit real estate agents.
"For a Realtor, showing a property means communicating the best and most relevant information about that property to prospective buyers or to other agents. iGUIDE Virtual Showing empowers Realtors to do that online. It connects people with the information they are looking for while maintaining the role and value of the Realtor to give guidance and advice," he said.
Real estate agents can host the tour and invite their clients through text, email, or social media. In Ontario, iGUIDE can be imported directly into BrokerBay's online bookings through the MLS with participating brokerages. They can then guide the tour and talk to their client through a compatible voice client such as Zoom, Facebook, Gotomeeting or Google Meet.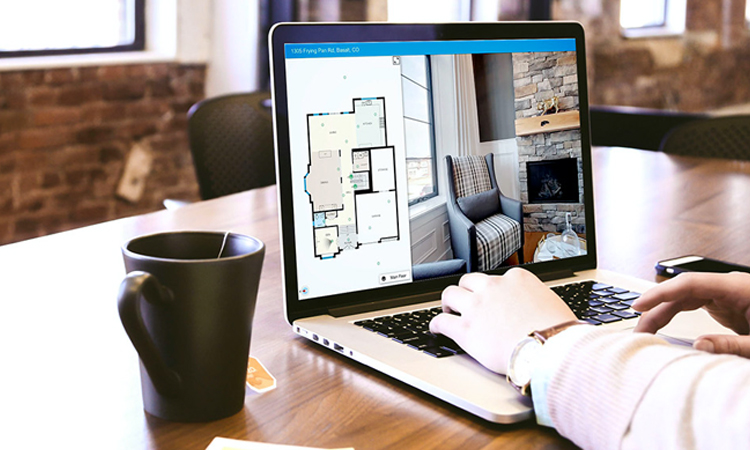 Technology during Covid-19
While the technology has obvious application during a pandemic, it has other uses as well. Home buyers have modified their wish-list for their next property purchase and with this guided virtual tour, those who can't easily visit the homes they intend to purchase in-person can experience the home as if they are in it, with their real estate agent, before they make their final decision – Covid or no Covid.
Provinces and States across North America are slowly re-opening (or closing again) so the only thing that is clear is that the future is uncertain. Regardless of what continues to unfold in the coming months, real estate has changed. Virtual showings are here to stay, along with many other key technologies that have helped us get through recent challenging circumstances and will help us get through whatever lies ahead.
For more information please visit, Virtual Showing